At English Row Dental we proudly offer comprehensive dental care for your family of all ages, starting with children's dental care. We strive to inspire our youth to build positive dental hygiene habits early through education and routine cleanings and examinations.
Initial Children's Dental Exams
Routine Dental exams allow dentists an opportunity to examine the growth and development of children's teeth. As children grow their needs grow as well. An important children's dental examination is given to:
Orthodontic consideration

Gum disease

Tooth Decay

Tooth restorations

Any important issues from the patient/parent
Children's Dental Cleanings
Routine children's dental cleanings help remove developed plaque and calculus from the teeth's' surface. Fluoride is often applied/suggested to help build strong enamel in young teeth to build a strong tooth structure. Pediatric dental cleaning helps build confidence and trust for young patients with their dentist.
We want your child to have the best treatment available, and we know you have a lot of questions concerning the best way to care for your child's teeth.
Here are some frequently asked questions: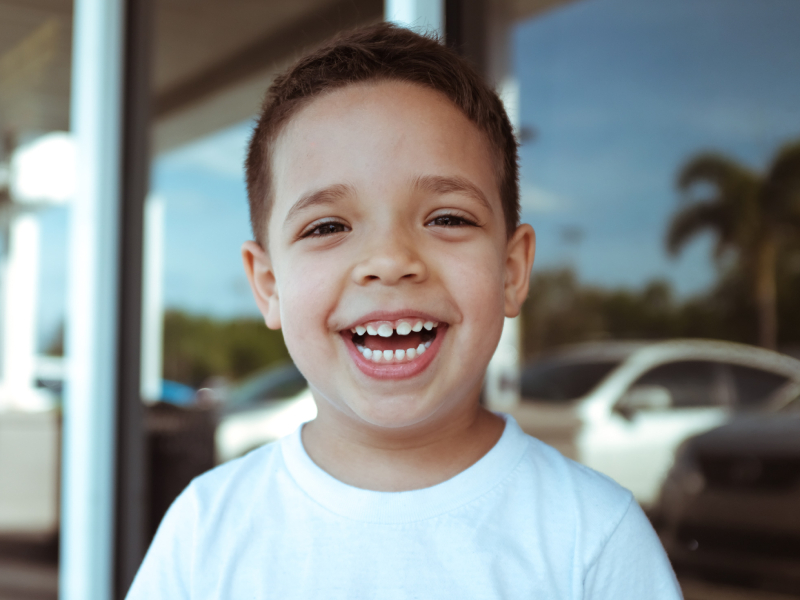 Keep a positive attitude and speak regularly leading up the appointment, chances are that your child will have a confident outlook. We don't want ANYONE to dread going to the dentist! That's why we make our environment as relaxing as possible.
Brushing can be fun! We're glad to help your child discover the importance of healthy teeth. We educate parents and children about proper brushing techniques. Flossing is also an important part of good oral hygiene habits, and we'll tell you when your child should start flossing.
Once your child has a few teeth, you can start using fluoride toothpaste on the brush. Use only a tiny amount for each cleaning and be sure to choose toothpaste with fluoride. Children tend to want to swallow toothpaste, so be sure they rinse and spit it out.
For children between 3 and 6 years, use a pea-sized amount of toothpaste. You'll want to limit rinsing his or her teeth with water so your child can maximize the benefits of the fluoride.
If you see any signs of decay, contact us immediately.
You should brush your child's teeth until they are ready to take responsibility, which usually occurs around age 7 or 8. We'll be glad to help you determine when your child is ready.
Don't let the name fool you—baby teeth play an important role in helping your son or daughter speak, smile and chew properly. They also serve as a "placeholder" for permanent teeth. If baby teeth are lost too early, teeth nearby can shift, causing overcrowding and other problems.
Our mouths are full of bacteria. When these bacteria come into contact with sugary foods left behind on our teeth, acid is produced. The acid then attacks the tooth enamel—the harder, exterior cover of the teeth. Once the acid eats through the enamel, it creates cavities—or holes—in the teeth.
Did you know that children are not born with the kind of bacteria that causes cavities? These bacteria are acquired from their parents or primary caregivers!  Children get these bacteria from:
Sharing drinks with parents, siblings or caretakers
Drinking from the same cup as parents
Using a pacifier that was cleaned by mom or dad's mouth
Sharing eating utensils
Limit these habits and decrease your child's risk of developing cavities!
Avoid sugary foods
Make sure your child brushes at least twice a day
Use a fluoride toothpaste
Floss daily
Ask your dentist about a fluoride supplement
Limit snacking—a healthy diet is important
You may ask the dentist about sealants, which protect teeth that are difficult to brush. Sealants are a safe, simple way to help your child avoid cavities.
Follow these guidelines:
Always be positive. Instead of punishing your child for thumb sucking, give praise when it doesn't happen.
Put a bandage on the thumb or a sock over the hand at night. Let your child know that this is not a punishment, just a way to help remember to avoid sucking.
Start a progress chart and let your son or daughter put a sticker up every day that he or she doesn't suck a thumb. If your little one makes it through a week without sucking, he or she gets to choose a prize. When your child has filled up a whole month, reward him or her with something great –by then the habit should be over.
Making your child an active participant in treatment
If you notice your child sucking when anxious, work on alleviating the anxiety rather than focusing on the thumb sucking.
Take note of the times your child tends to suck (long car rides, while watching movies), and create diversions during these occasions.
Explain clearly what might happen to the child's teeth if he or she keeps sucking a thumb.
Whatever your method, always remember that your child needs your support and understanding during the process of breaking the thumb-sucking habit. If you have questions, please contact us. We'll be happy to speak with you about the best way to care for your child's developing teeth.
I can smile with complete confidence! I can't now imagine ever being concerned about appearing in photos. It's just been a new lease of life. Thank you.